Update April 2018: I went back and reworked the entirety of this entry for Kingdom A&S. You can see the documentation here:Stew on Ship and photos here.
28. 29.
At Lionsdale's Winters Tourney this year I entered the Arts and Sciences competition and won. The theme of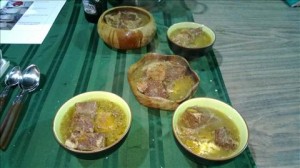 the competition was the chorus of "The Ship Called Lionsdale" which is a filk some of our local members wrote a few years ago. In that theme I decided to make a meal that could have been eaten on that ship. For this I used naval regulations, food preservation, and other, journals, information on the recovered Mary Rose and cookbooks from the 16th century to work out a potential meal.